♥ Welcome to Spooky Hollow designs by Carmen Ellis ♥
I'm working on replacing the photos that photobucket blocked!
NEW ART ADDED WEEKLY!
Spooky Hollow starring Grimmy and Company!
Spooky Hollow the book ( illustrated children's book for ages 7-10 ) will be coming soon! Follow Grimmy and the gang on a Halloween adventure.
Updates will be posted on when and where the book can be purchased.
We have reached 5000 Facebook art fans and over 3800 fan page fans on Facebook! With Twitter, newsletter subs and members we have reached about 10,000 Spooky Hollow Grimmy Lovers! Thank you so much!
Join our newsletter by registering at the top right of this page. Click on the word register.
Once upon a time in a land not so far away, as close as your backyard some people say lives a little group of creatures you might call scary. Some are tall and some may bite. Some are small a terrible fright! You might even find a creature of the night but if you catch a glimpse do not follow! For these are the spooks of Spooky Hollow! ♥
by Carmen Ellis
Spooky Hollow is a magical place filled with monsters and goblins, ghosts and ghouls. In my Spooky Hollow world they are tiny little monsters. They come out at night with the full intention of scaring people to DEATH. They fail every time. I create my monsters in clay, paintings and illustrations. Spooky Hollow monsters are to be loved by adults and children alike. My goal with my art is to make my buyers smile or even laugh out loud at the sight of them. My art is not just about Halloween. I love to create art for all holidays. There are some examples of other holiday art in the slide show at the top of the page and in my photo gallery.
my work.
Spooky Hollow Folk art has been featured in Celebrate 365 Magazine, Baby Talk magazine , Childstyle magazine, A Haunted Path magazine, The book a Cornish Litany, Indy's Child and Prims fall and Spring issues!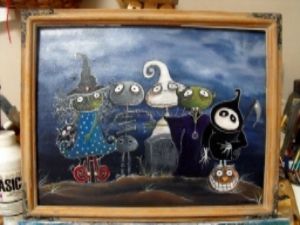 Some of the characters in the illustration above are,
Grimmy Reaper my most popular little guy.
Bites the vampire
Boo Boo the ghost

Skelly the skeleton
Other characters not pictured are,
Ooky the green monster
Edgar worm head
Wormy
Salem the black cat and other spooks and ghouls!
♥ Thank you for visiting! Check back often! ♥
Our blog is getting a make over and will be back soon.
Proud member of PFATT! Come shop!
Fan us on Facebook by clicking the banner to the right of this page!
©2000-2019 Images & designs are property of Spooky Hollow.net by Carmen Ellis ©2000-2018 Grimmy & Company